Is your company among the 40% that use paper sign-in sheets to track visitors? If so, your visitor sign-in sheet is probably the first thing people encounter when they enter your office, and maybe the last thing they see before they leave. This might not seem like a huge deal, but your sign-in/sign-out system actually says a lot about your brand, your office culture, and the value you place on your visitors.   Here are 7 best practices for sign-in sheets that will keep your office working smoothly.
1. Extend a personal greeting
Greetings are a quick and easy way to welcome your visitors and remind them to sign in. Plus, a polite greeting makes a great first impression.
2. Ensure privacy
In many office settings, privacy isn't just expected, it's required. Maintaining the privacy of your visitors can be as simple as keeping your sign-in sheets out of view or using a peel-off system.
3. Customize your approach
Even if you use a template, include a personalized logo or title. You can also customize questions to quickly check in on visitor experience and satisfaction. Provide options for follow-up if visitors express concerns.
4. Keep your sheets readable
To keep your sheet looking neat, avoid scribbling out or crossing items off. Try a system of highlighters or color-coded lines to speed up interpretation and data entry.
5. Track your data
Your sign-in sheets provide a lot of information: who was in your office, how long they were there, who they came to see, etc. But this data won't do you any good if it's lost in a filing cabinet. At the end of each day or week, enter your visitor data into a spreadsheet or other system so you can easily access and analyze it in the future.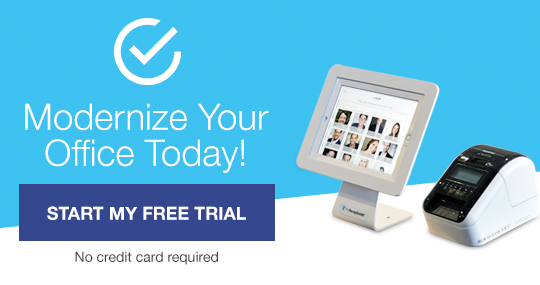 6. Talk amongst yourselves
Communicate with your co-workers to streamline sign-in and data collection practices. Get input from those who receive visitors down the line to identify the most helpful information to track.
7. Give a warm sendoff
It's just as nice to notice when someone leaves as when they arrive. Sign-outs help you track appointment lengths and wait times, as well as who's in the building. This can all be helpful in an emergency and for gauging visitor satisfaction. Visitor tracking can be a great way to communicate with clients and grow your business. A solid system will boost efficiency and direct your energy toward what matters most. Tired of paper sign-in sheets? The iPad Receptionist will transform your visitor management process.