As health officials and governments give tentative approval to begin re-opening the economy, many offices that had been completely or partially closed are tentatively re-opening their doors.
However, of course, this new office life won't feel the same as it did pre-pandemic.
There's still a real risk of infection, and both employees and customers may be feeling nervous and unsure about being around others again.
The business leaders who take these feelings seriously and make detailed plans to address both safety and uncertainty will be the ones who will thrive through this difficult time.
At The Receptionist, of course, our specialty is helping businesses welcome visitors into their offices. We've been working with many types of businesses whose visitor traffic actually ramped up through the pandemic, such as logistics companies and food and beverage manufacturers. And now we're in close contact with business leaders who are wondering what steps to take as they reopen their reception areas — the areas that traditionally see the highest levels of traffic of the entire office and serve an important gatekeeping role for health and safety.
Here's our take on some of the steps offices are taking to increase safety and comfort as we all transition to a "new normal."
Temperature Checking
One technique for improving office safety in the COVID-19 era is to check the temperature of every employee who comes on-site before they enter the building. The CDC lists temperature checking as an optional measure for offices (although the CDC does recommend temperature-checking for those essential workers who have been exposed to COVID-19).
Temperature-checking might provide a better sense of safety, but the method isn't without drawbacks.
For example, the CDC recommends only allowing admittance to those with under a 100.4 degree Fahrenheit body temperature. But "normal" body temperatures can vary significantly from one person to the next, which means that some people with elevated temperatures can fly under the radar. Plus, many people who have been infected with COVID-19 never get a fever at all. There's also the varying reliability of different thermometer brands and techniques to consider.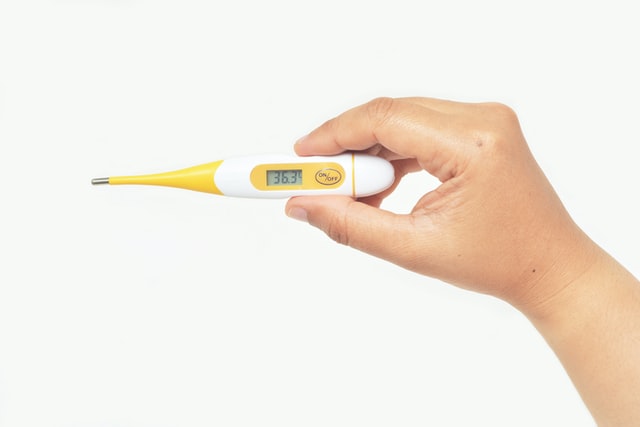 Perhaps most importantly, though, designating someone as a screener means that the screener has a whole new set of important responsibilities for sanitation if they don't want to spread their germs to every person who comes into the office. The CDC recommends that the screener stay behind a barrier at all times (and reach around that barrier with a contactless thermometer, for example) or use PPE, which has been hard to come by and should be conserved as much as possible for hospital use.
Implementing temperature-checking protocols correctly takes time, and temperature checks might not be necessary in six months. Smaller employers will have to weigh the costs vs. the benefits of implementing those temperature checks.
As we wrote in our post on temperature screening, it's easy to add a temperature field to the check-in screen within our software if you do decide to track temperatures in the lobby.
Contact Tracing
Contract tracing is another optional tactic that the CDC recommends as part of a "multi-pronged" approach to battling COVID-19 in communities. However, some offices are opting to use it, too.
Basically, by keeping better track of when people come in and leave and tracking which parts of the office they access each day, managers will have a clear idea of who has been exposed if or when an employee or visitor eventually does test positive for COVID-19.
Keeping better track of the comings and goings in the office can be as simple as stationing more tablet-based kiosks at different entrance points and having people sign in and out consistently.
However, gathering data is much different than managing the response to a report of someone testing positive for COVID. The latter requires skill and professionalism. As the CDC explains, contact tracers need to understand not just how the disease spreads and what actions are required as a result, but the importance of protecting medical privacy and treating people with respect and empathy.
Keeping Surfaces Clean (Touchless Check-in)
The research seems to indicate that most COVID-19 transmission happens from person to person, and is more likely when people stand or talk within close proximity to one another for an extended time where the air is stagnant.
That's why the most suggested tactics for transmission prevention continue to be keeping at least 6 feet apart and wearing masks to prevent the virus from being sprayed into the air with coughs, sneezes, or just laughter or conversation.
We may be less likely to contract COVID from surface contact than in-person interaction, but there's certainly no harm in continuing to pay attention to the common sense good practice of disinfecting surfaces that multiple people come into contact with.
Thorough cleaning makes everyone feel safer, and can safeguard against the other illnesses that do get transmitted via surface contact.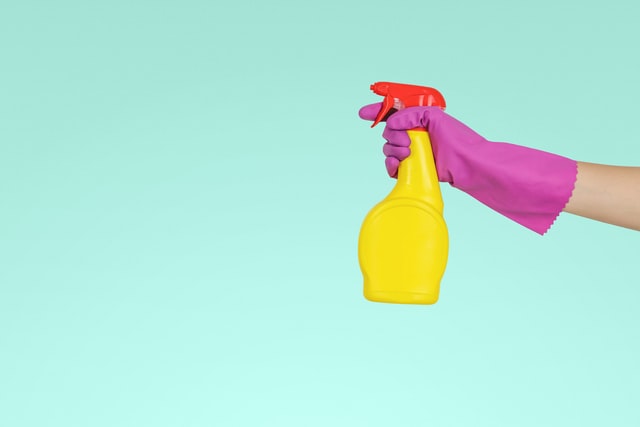 One place where shared surfaces are particularly problematic in the reception area is the sign-in desk or tablet.
Some of our clients have asked about whether their visitors can check in on their own devices and avoid touching the communal tablet. However, that kind of remote check-in won't satisfy the visitor management requirements set forth for compliance for certain industries (such as food and beverage, or for manufacturers that produce sensitive materials).
We think that purchasing several extra styluses for your tablet (or pens for your visitor log) and instructing visitors to grab one from the "clean" pile to sign in and then place it in the "used" pile afterwards goes a long way toward toward keeping the sign-in process sanitary (and putting your visitors at ease).
Of course, you'll have to make sure that those styluses and the other surfaces in the reception area are wiped down and disinfected regularly using CDC recommended procedures. You should also wipe down other surfaces in the front office area, including counters and doors, as we wrote in our post Protect Your Office From the Risk of Infectious Disease — Starting in the Lobby.
Communicating Safety
All the safety procedures in the world won't make your visitors feel more comfortable if they don't know that precautions are being taken. For that reason, more communication is better. It's a mistake to assume that a single email blast will satisfy everyone's questions and anxieties about returning to the office.
It's a mistake to assume that a single email blast will satisfy everyone's questions and anxieties about returning to the office.
Click To Tweet
If you can, reach out to employees, partners, contractors, and potential visitors personally to let them know what's happening and ask if they have questions. (In fact, The Receptionist's CEO, Andy Alsop, is taking that proactive approach with our own clients.)
For example, any scheduled visitors should be given check-in instructions in advance. Employees need to understand how you've worked to make their environment safer in ways that may not affect them directly. For example, contractors may appreciate the knowledge that you have restricted in-person meetings to smaller numbers or are continuing to allow some employees to work from home, because it means less overall contamination.
What Can You Do With the Tools You Have Now?
Some of the most effective ways to limit the spread of the virus are pretty simple and don't require big investments in equipment or even drastic changes in the way you operate.
Staggering employees' shifts is one example of a simple way to limit interpersonal contact. Requiring employees to wear masks when they're in the office is another simple way to limit risk.
Of course, it's also a good time to re-think a few things about the way you run your office. Do employees really need to come into the office five days a week, for example? Do you really need one person sitting up front all day long, or can you rely on a tablet-based check-in app like The Receptionist instead?
We're interested to hear about how you're adjusting the practices in your front desk area as we all begin our return to the office. Reach out to us on Twitter to share any more best practices.
Finally, to hear our team discuss these very issues on The FABRIC Podcast, head over to the show page and check it out.