Do you remember your last team video conference? How long did it take you to set up the connection in the first place, and how many times did someone's audio cut out right in the middle of a sentence?
Despite the fact that we live in a constantly connected world, video conferencing can still be complicated. But with California-based tech company Highfive, it's a breeze. They've spent the last 5 years perfecting their video conferencing hardware and software to make team meetings easy and affordable for companies with multiple offices. If you video conference, you need this service.
Since Highfive opened, they've scaled up in both team and office size. And as their business grew, they started searching for an automated system to help manage the constant flow of visitors, candidates, customers, and deliveries in their office.
"With the new office being much larger, everyone would be farther down the hallway," says Melissa O'Brien, Head of People Ops at Highfive, "and we didn't want visitors to walk in during meetings or interviews."
After looking at other virtual visitor management systems, Highfive decided on The Receptionist for iPad because it offers visitors a simple, convenient way to announce their arrival without any disruptions. The software can also be customized to scale right along with them — no matter how big the team or office grows.
At their office today, The Receptionist for iPad sits in the main lobby area so that visitors see it as they exit the elevator. When a visitor checks in on the iPad, every Highfive employee receives a Slack notification, then someone greets the visitor. "The convenience of everybody getting a notification is a solution that's worked really well for us," says O'Brien.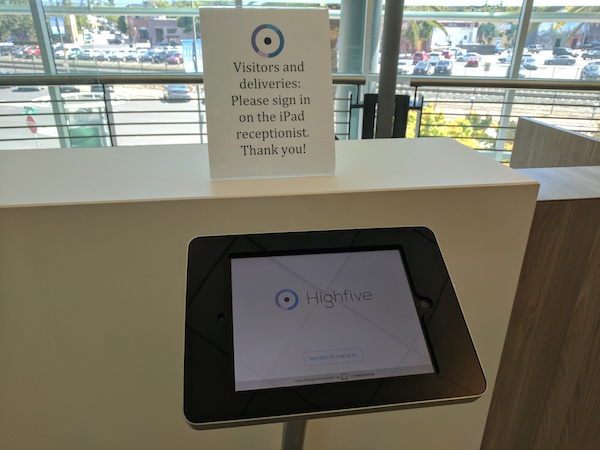 All in all, the Highfive team is very happy with The Receptionist for iPad. "It does exactly what we need it to do," says O'Brien. She also appreciates The Receptionist's Radical Support team, because "Jessica's been really quick to make any account changes for us that we need."
We're excited to help companies like Highfive make visitor management simple and efficient. Want to learn more about how The Receptionist for iPad can help your business? Sign up for your free 14-day trial.
About Highfive Technologies
Highfive makes meetings awesome with insanely simple video conferencing built for your meeting rooms. Highfive is the easiest-to-use solution, with all-in-one hardware and intuitive cloud software that delivers high-quality collaboration and video conferencing. At a fraction of the cost of traditional systems, you can put Highfive in every room, not just the boardroom, and with it's per-room pricing (instead of per-user), it opens collaboration for your entire organization.