Schools have plenty of logistics to worry about when it comes to reopening in the fall in the midst of the COVID-19 pandemic.
They do have some guidance as far as best practices go: the CDC has released a set of guidelines for schools to consider in light of their reopening. States and districts may come up with their own COVID-19-related rules and regulations, too.
At the Receptionist, we work with several educational institutions and school districts to help them manage their visitor traffic and keep visitor records. However, we realize that visitor practices that have been really helpful in the past now need to change.
Here are a few things that schools need to change in their lobby and reception areas to adjust for new pandemic-related needs.
Limit Visitors
Schools have long had to take special precautionary steps for visitor verification and identification for the sake of security. They've also had to go a long way in terms of security to make sure that visitors don't come into the school without safely checking in via the lobby.
However, funneling everyone in and out of the same small-ish indoor space has created new health hazards in light of the novel coronavirus.
We all know how helpful and important those parent volunteers and other school visitors can be.
However, one of the simplest steps for safety in this strange time is to limit the number of people coming in and out of the school.
As the CDC put it: "Limit any nonessential visitors, volunteers, and activities involving external groups or organizations as possible – especially with individuals who are not from the local geographic area (e.g., community, town, city, county)."
We think that limiting visitors is especially important for schools because the use of facemasks makes visitor ID and security more difficult. For example, we often suggest that visitor badges display visitors' photos so that all students and faculty can see right away that the badge wasn't stolen or fabricated. But if you can't see people's faces due to face coverings, that extra security measure isn't as helpful.
Identifying visitors to make sure you know who they are also gets tricker in light of the new face covering suggestions. Visitor verification might require somehow checking their face behind a glass wall or other screen, which some schools simply don't have.
Other businesses and institutions have the option of weighing the pros and cons of using remote check-in tools that don't require people to sit in the areas where they will be exposed to the most people. But school administrators play an important role in safety for schools, so they'll inevitably be at more risk with each new visitor-check in — even when face coverings are worn.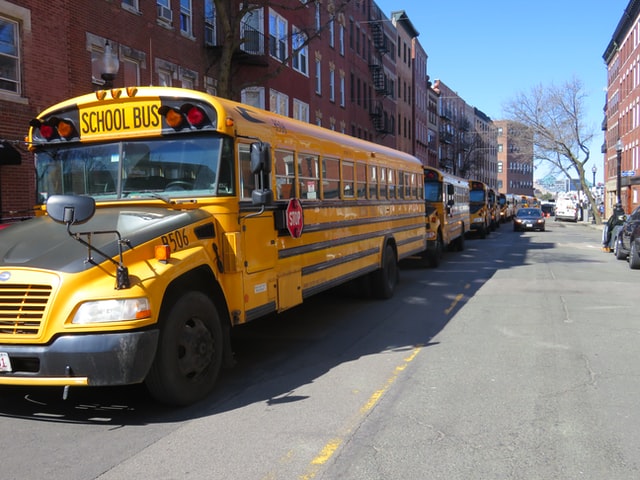 Modify the Check-In Process to Limit Risk
As we just mentioned, people who are coming into the school from outside your community may pose a higher risk for COVID-19. You may decide to only permit visitors who have not been out of the local area for the past few weeks, for example, or those who haven't traveled to COVID-19 hotspots. You may also add a few fields to the check-in process asking for visitors to confirm that they aren't experiencing COVID-19 symptoms, or haven't been in contact with anyone who has tested positive for COVID-19.
Whether people are checking in via an electronic system or verbally with the school administrator, they should have to answer a few screening questions before they are permitted inside.
If your school is moving ahead with temperature screening for each visitor, you can also modify the check in process for that (and leave a space to record their temperature in the check-in log).
For more on keeping the physical check-in process safe, including how to keep the sign-in kiosk and check-in tools clean and sanitary, head over to our blog post Adjusting to the "New Normal" in the Office Lobby.
Encourage or Enforce Spacing in the Lobby
By now, you've certainly heard of the "6 feet apart" general rule of social distancing. Make it easy for people to maintain that distance coming in and out of your school's lobby with things like spacing demarcations leading up to the check-in desk like the ones you've likely seen at local restaurants and grocery stores.
The CDC also recommends staggering the arrival and drop-off times or locations of students to prevent any crowding and limit the contact between students and between parents.
Since the virus seems to be easier to contract in places where air is stagnant, asking parents to drop their students off outside the school (if they weren't already doing so) or meeting them outside may be helpful, as well, especially in combination with other distancing and face covering tactics.
Modify Visitor Policies
Visitors will need to understand that they'll be expected to adhere to new safety protocols when they're on school grounds, whether that includes wearing a facemask for the entirety of their stay, limiting their visit to certain part of the school property, or thoroughly washing their hands or using hand sanitizer at regular intervals.
It may help to put this information in video form and require visitors to watch the video upon check in. (This task is easy when you use a web-based, customizable visitor management tool like The Receptionist for iPad.)
The Receptionist can also keep a timestamped record of when each visitor watched these videos and agreed to the new safety precautions.
Improve Visitor Recordkeeping
As we wrote in our post on the "New Normal" in visitor check-in, official "contact tracing" is a job for professionals who understand the importance of medical privacy and who are trained in how the virus spreads.
However, keeping solid records about who was in the school building, when they arrived and left, and who they visited while they were on site can be extremely helpful if someone who has visited the school is subsequently diagnosed with COVID-19.
Keeping these records gets much easier when you use an electronic check-in app. With modern visitor check-in systems, there's little chance for recordkeeping errors, legibility questions, or important fields being skipped over. Plus, finding the visitor data you need is easy thanks to these programs' robust reporting features.
If you've been considering upgrading your school's visitor check-in system, now is a good opportunity. Modern systems have plenty of benefits outside of record keeping, including better overall administrative records and more time saved for your front desk staff, which they can then use in other ways to improve your school.
If you've been considering upgrading your school's visitor check-in system, now is a good opportunity.
Click To Tweet
If you'd like to try The Receptionist, which enjoys top ratings on sites like Capterra and G2, we offer a free, no-obligation two-week trial.
Click here to learn more about how The Receptionist works for educational facilities, and click here to request a demo.